Jeff Sowder, Soon to Be CEO of Shriners Hospitals, Leaves Legacy Gift to Kansas Masonic Foundation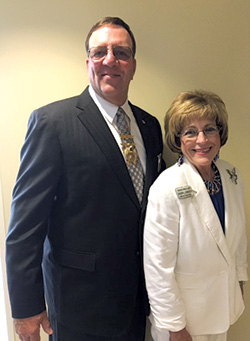 Jeff Sowder runs four agricultural businesses, but he spends less time working than he does volunteering for the Masons and the Shriners—including leading the campaign that raised $15 million for the Kansas Masonic Cancer Research Institute and preparing to become the volunteer CEO of Shriners Hospitals for Children®. And yes, he and his wife Cheryl make annual contributions to the Kansas Masonic Foundation and have included a legacy gift to our organization in their estate plan.
"Cheryl and I are big believers that everyone needs to be part of something bigger than they are, because you can accomplish so much more than you can individually," Jeff says. "We are not people of big wealth, but we made commitments years ago to make annual contributions to charities, and Kansas Masonic Foundation is one of those. And we are also big believers in the fact that you can and should leave estate gifts."
Jeff became a Mason 41 years ago, at the age of 19, and has held local, state, and national offices, including on the board of this foundation for 25 years.
"I became president in 2004, and immediately after we were asked by the University of Kansas Medical Center to give them $15 million over the next five years so they could gain National Cancer Institute designation as a Comprehensive Cancer Center," Jeff relates. "I took a big gulp, as over the previous 30 years we had given them $5 million for cancer research. But we did it in four and a half years, and every dollar came from a Kansas Mason or a company a Mason was directly involved with. Now the research arm is called the Kansas Masonic Cancer Research Institute, and it might be the single biggest accomplishment I have helped do in my lifetime—an incredibly difficult task that took a lot of work from a lot of people."
Now Jeff faces a new task: In 2019 he becomes CEO of the 22-hospital system founded by the Shriners (who of course were founded by the Masons). He is in his eighth year of an 11-year process to become CEO, though his only formal education is a high school diploma. Based near the tiny town of Toronto, Kansas (population 275), Jeff is currently on the road 18 to 22 days a month doing volunteer work for the Masons and the Shriners, including being in charge of the construction of a new hospital in Lexington, Kentucky.
Jeff expressed gratitude to the employees who manage his businesses—"surround yourself with good people, trust them and put them in the limelight, and they will make you money," he says—and especially to his wife of 41 years (they have two children and five grandchildren).
"Cheryl has tolerated the fact that I volunteer as much or more as I work for a living," Jeff says. "If you don't have that kind of support at home, you can't accomplish what I do as a volunteer. But she believes in everything we do. Truthfully, I feel very very lucky to be working for these worthwhile causes and to be associated with Freemasonry, Kansas Masonic, and the Shriners."
© Pentera, Inc. Planned giving content. All rights reserved.
Disclaimer